This is for real, as far as I can tell:
Iran plans to make special bicycles designed for women that will be compatible with Islamic regulations and not expose their body movements while riding.

The new bicycle would have a cabin to cover half of a rider's body, the newspaper Iran quoted project manager Elaheh Sofali as saying.
Jesus and Mo has the perfect T-shirt for this: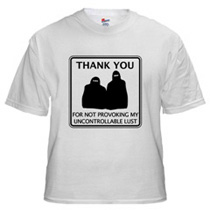 Seriously, what's these people's hangup about sex? The cynic in me thinks that if you take a bunch of normal young males and try to get them to suppress the sexual urges bequeathed them by half a billion years' worth of evolution, of course they're going to become neurotic and pliant.
These people really need to have a glass of wine, get laid, and just chill out.